The First National Shorts
Sunnyside
In his autobiography, Chaplin recalled that making Sunnyside was "like pulling teeth". From time to time, like any artist, Chaplin experienced creative blocks; but this was one of the worst in his career. No doubt one cause was his private life. Late in November 1918 he had married in haste a 17-year-old actress, Mildred Harris - and immediately regretted it as he found that poor Mildred was "no intellectual heavyweight" and woefully unequal to the job of wife to a genius.
Barely a week after the marriage, he was back at the studio with a plan to put Charlie into a rural setting, as the put-upon man-of-all-work at a seedy country hotel. He took the unit on location to one of the ranches that were still close by in that rural California, and hired horses, cows and cowboys - but the ideas for comedy did not come. After more than three months of idleness and a temporary abandonment of the project, Chaplin suddenly forced himself into a three-week spurt of energetic activity, after which he was able to complete Sunnyside.
It is a more interesting film than Chaplin or his critics gave him credit for. The spectacle of Charlie in a rural setting is novel, and provides some unexpected gags. Some scenes have a rather piquant edge of cruelty.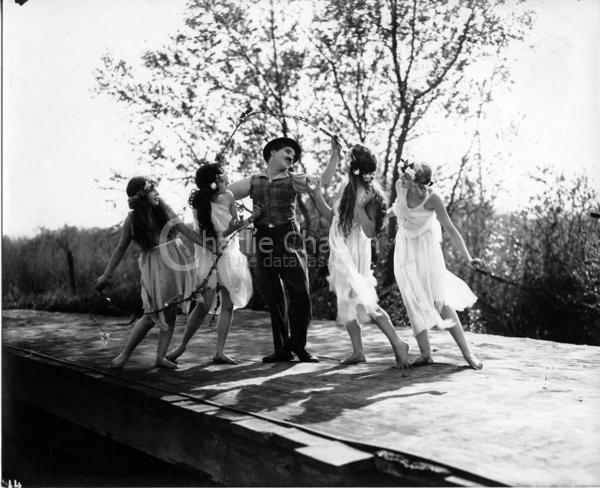 One scene in particular is particularly remembered. Charlie, knocked unconscious, dreams that he dances with four wood-nymphs. This virtuoso performance is clearly a tribute to the ballet L'Après-midi d'un faune, created and performed by the great Russian dancer Vaslav Nijinski. Nijinski had visited Chaplin's studio and the two men clearly had a great mutual admiration. Chaplin was understandably flattered when the Russian dancer and his colleagues complimented him on his own dancing skills.
A Day's Pleasure
A Day's Pleasure unusually shows Chaplin as the respectable father of a family and the proud owner of a Model-T Ford. This is another film whose light touch conceals the difficulties of its making. Chaplin started out with the simple idea of the story of the hazards of a family excursion; but at first the shooting went slowly. His marital troubles continued to distract him; and reached a crisis when his wife gave birth to a severely handicapped baby which died at two days old. Paradoxically, Chaplin seemed suddenly inspired. A Day's Pleasure (still known by its working title of Charlie's Picnic), was abandoned, and work began feverishly on what was to be his masterpiece "The Kid"
Finally it was the impatience of the distribution company, desperate for a new Chaplin film, which led him to finish shooting A Day's Pleasure in little more than a week. He rented a pleasure boat, which was the kind of prop that always inspired him; and it is probably the speed at which the film was finally finished that gives it its lasting freshness.
The Idle Class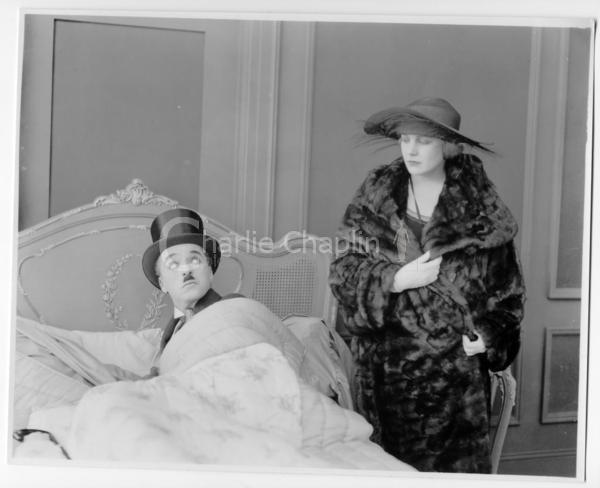 Chaplin was experimenting with new roles for his Tramp character. In The Idle Class (1921) he actually plays two roles - the Tramp and a rich young alcoholic husband. Between them they represent the Idle Rich and the Idle Poor. Everyone in the film is obsessed with America's dominating passion of the time - the game of golf - and Chaplin has the opportunity for a gag-filled golfing sequence, the prototype for which he had made and abandoned five years before, during his Mutual years.
Pay Day
Pay Day (1922) was Chaplin's last two-reeler, and again casts him in an unfamiliar role, as a working man and hen-pecked husband. It proved one of his most trouble-free productions and shooting was completed in one month. Like his earlier two-reelers it is divided into distinct "acts". In the first part he is seen as a workman on a building site (it was actually shot on location on a new building in construction close to the studio) having trouble with bricks, the tools of his trade, and an elevator which at least has a convenient habit of delivering other people's food to him.
The second "act" shows the workman on a night out and gives Chaplin the possibility for a drunk act of the kind that had brought him fame in the English music halls of his youth.
In the finale, he has to return home in the small hours of the morning to his virago wife, played by the veteran expert in such roles, Phyllis Allen. The film is particularly notable for the expertly shot night scenes of the second act.