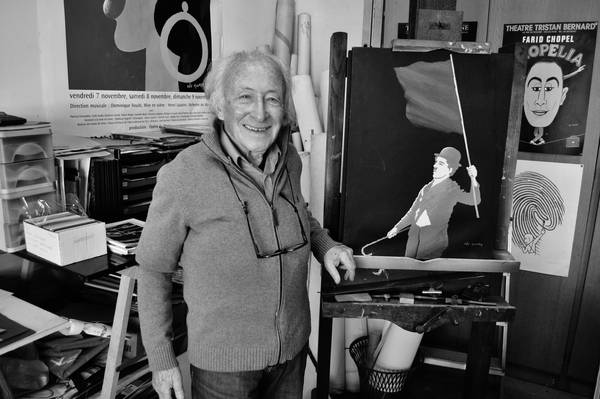 As part of the Birth of the Tramp celebrations in Bologna, there will be a special Léo Kouper exhibition from June 25th to July 5th, 2014.
Léo Kouper, pictured above in his artist's studio in Saint-Ouen, is a French artist, renowned for his movie poster illustrations, notably those of Chaplin films. He painted his first Chaplin poster in the 1950s.
Alongside some of his most famous Chaplin posters, the exhibition will feature many ideas that never made it to the United Artists advertising department. Mr Kouper will be in attendance for a guided tour on Saturday, June 28th at 4:00 pm.
Place:
DIPARTIMENTO DELLE ARTI / SPAZIO HALL
PIAZZETTA PIER PAOLO PASOLINI 5/B
FREE ADMISSION
June 25th to July 5th
Monday to Friday: 2:30 pm to 9:00 pm
Saturday and Sunday: 10:00 am to 9:00 pm
For more information about the numerous Tramp 100 festivities in Bologna, visit www.cinetecadibologna.it/100charlot_eng
And here's a sneak peek, as the exhibition is currently being set up: