Exhibition: "Chaplin, Between Wars and Peace (1914-1940)"
17th September 2014 - 4th January 2015
Musée de l'Élysée, Lausanne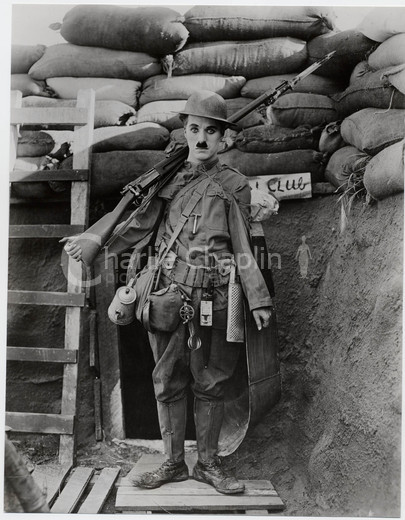 Should Charlie Chaplin continue making films or enter the trenches? The controversy over the fact that the British actor was not fighting alongside his own people erupted in 1915. At the beginning of his fame, Chaplin already faced criticism. Twenty-five years later, it was his turn to question moral and political convictions at the dawn of the Second World War.
In 1914, Americans discovered this young music-hall comedian in Keystone's burlesque films. Within a few months, Chaplin became one of their stars. His character was a hit with audiences, who loved his costume, movements and funny faces. Because of the First World War, distribution of his first short films to Europe was delayed until 1915, but the Tramp became just as popular there with both civilians and soldiers. Chaplin remained in America, but bolstered the troops' morale with his comedies. Later he joined the war effort in 1918 by producing a short propaganda film in favor of the Third Liberty Loan. That same year, he filmed Shoulder Arms, in which a heroic Tramp succeeds in capturing the Kaiser. The film combines comic situations with the realism of the trenches. Released a few weeks before Armistice, the film was a huge success.
Chaplin's political consciousness evolved during the interwar period, as did his concerns about the economy. A staunch pacifist, the rise of fascism in the early 1930s worried him. The Great Dictator (1940) was a politically engaged film mixing irony and tragedy in which he painted a caricature of Hitler. Chaplin also plays the role of a Jewish barber oppressed by society. For his first full-fledged "talkie", the filmmaker dared to say out loud what many would have preferred to keep silent.
The exhibition presented by the Musée de l'Elysée assembles original prints and vintage documents from the Chaplin Archives. The Archive's photographs were deposited at the museum in 2011. Film clips (from Lobster, MK2, Gaumont Pathé Archives, Transit Film/Berlin Filmothek Bundesarchiv), photographs of the two world wars from the museum's collection and posters from the Cinemathèque suisse and private collections enhance our understanding of Chaplin's stance towards History.
The exhibition, designed to commemorate the 100th anniversary of Chaplin's first films and the First and Second World Wars, is made possible thanks to the Association Chaplin, Roy Export SAS and Roy Export Company Establishment.
Opening on 16 September, 2014.
For more information, visit the Musée de l'Élysée, Lausanne website.