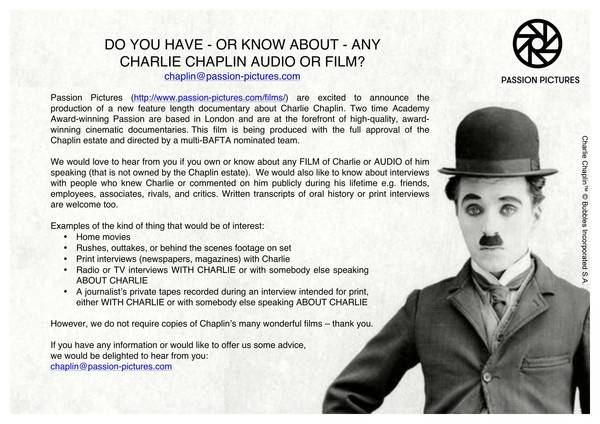 DO YOU HAVE - OR KNOW ABOUT - ANY CHARLIE CHAPLIN AUDIO OR FILM?
chaplin@passion-pictures.com
Passion Pictures are excited to announce the production of a new feature length documentary about Charlie Chaplin. Two time Academy Award-winning Passion are based in London and are at the forefront of high-quality, award-winning cinematic documentaries. This film is being produced with the full approval of the Chaplin estate and directed by a multi-BAFTA nominated team.
They would love to hear from you if you own or know about any FILM of Charlie or AUDIO of him speaking (that is not owned by the Chaplin estate). They would also like to know about interviews with people who knew Charlie or commented on him publicly during his lifetime e.g. friends, employees, associates, rivals, and critics. Written transcripts of oral history or print interviews are welcome too.
Examples of the kind of thing that would be of interest:
* Home movies
* Rushes, outtakes, or behind the scenes footage on set
* Print interviews (newspapers, magazines) with Charlie
* Radio or TV interviews WITH CHARLIE or with somebody else speaking ABOUT CHARLIE
* A journalist's private tapes recorded during an interview intended for print, either WITH CHARLIE or with somebody else speaking ABOUT CHARLIE
However, they do not require copies of Chaplin's many wonderful films – thank you.
If you have any information or would like to offer some advice, they would be delighted to hear from you:
chaplin@passion-pictures.com