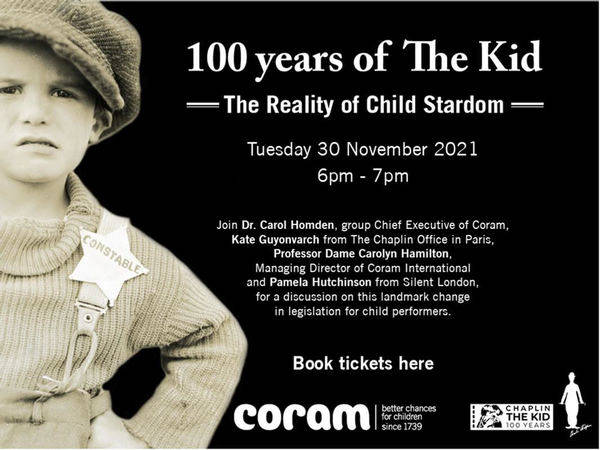 Online Discussion on November 30th at 6:00 PM GMT: 100 Years of The Kid - The Reality of Child Stardom
In 1921, five-year-old Jackie Coogan was propelled to stardom in THE KID, one of Chaplin's most personal movies, resonating his own childhood experiences and his rag-to-riches story.
Jackie, only four when shooting started, was to become a prototype for the child actor as we know it. He went from whirlwind fame to suing his mother and stepfather over their squandering of his entire film earnings, which he had expected to receive when he reached adulthood. In 1939, thanks to his court case, the California Child Actor's Bill, also known as the "Coogan Act", was passed to protect the rights of child performers and entertainers and is still the basis for current US legislation.
Join Dr. Carol Homden, group Chief Executive of Coram, Kate Guyonvarch from The Chaplin Office in Paris, Pamela Hutchinson, editor of Silent London, and Professor Dame Carolyn Hamilton, Managing Director of Coram International, for a discussion on this landmark change in legislation for child performers.
Book here. Proceeds will go to children's charity Coram. Admission is free for our social media followers. Just join the guest list as "Chaplin Office Subscribers".