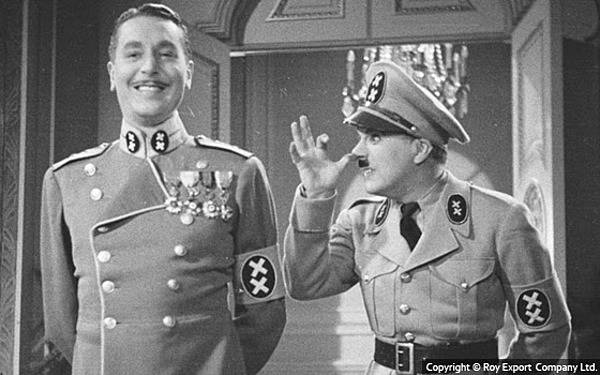 On the 80th anniversary year of the release of The Great Dictator we are privileged to present the new exhibition, Story of a small fish in a shark infested ocean - Charlie Chaplin, The Great Dictator 80 years on, co-produced by Les Rencontres d'Arles, Roy Export S.A.S, L'Institut pour la Photographie, Lille and Chaplin's World, and curated by Kate Guyonvarch, Sam Stourdzé, Mathilde Thibault-Starzyk.
A selection of hitherto unseen photographs taken on set by Dan James, including the candid shot above of Chaplin and Reginald Gardiner, are a major part of this exhibition. Assistant Director on the film, James was a vital part of the production, working with Chaplin throughout 1938-1940, taking notes to dictation of storylines, ideas and dialogue and even directing some scenes.
The exhibition is being presented for the first time at the Institut pour la Photographie in Lille, from September 10th to November 15th 2020, and it will be at Chaplin's World in Switzerland next year. Les Rencontres d'Arles 2020 were sadly unable to present the exhibition as planned this summer due to COVID-19.
More information on the Lille exhibition at the Institut pour la Photographie's website.
To learn more about Dan James, read this newly published article on our website.