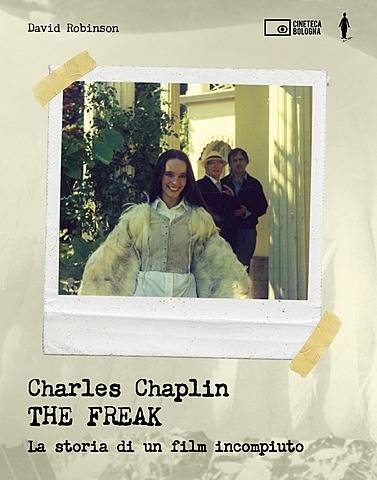 The Italian edition of a new book by David Robinson on Charlie Chaplin's unfinished film THE FREAK, published by Cineteca di Bologna, is available in Italian bookstores and on the Cineteca's online shop. Other language versions are hoped for in 2021.
This book is not just the first-ever publication of an unknown Chaplin film script, but the comprehensive presentation of an unfinished film – one of Charles Chaplin's most remarkable works, and his last. Chaplin had the idea for THE FREAK in 1968-9 when he was close to 80, and was inspired to produce the script in a much shorter time and with more confidence than any preceding screenplay. Once the script was complete, Chaplin and his producer Jerry Epstein saw the urgency, given Chaplin's age, of getting the film into active production as soon as possible. Hence, even while still seeking funding, Chaplin at his own cost engaged designers to present his visual concepts and to produce storyboards, and explored the elaborate (pre-CGI) special effects techniques the story demanded. In particular, Chaplin, Epstein and the studio special-effects department spent much time and money in producing the prototype of the big articulated wings which were to be attached to the leading actress – Chaplin's daughter, Victoria – throughout the film. (The wings are now on display at Chaplin's World in Switzerland.)
The recent acquisition of some Jerry Epstein papers by the Chaplin office revealed surprising information about THE FREAK: the project was actually one step away from being made, as evidenced by pre-production files, casting, location scouting and extensive correspondence between Epstein and several studios. Although the film was never finished, Chaplin left us a rich testimony – almost 3,000 pages worth –of words, photographs and designs, together with sound recordings of his own reading of the script, and of his own experiments on the piano, when composing the musical track.
It is from these that this book is able to evoke the real essence of Charles Chaplin's THE FREAK.
THE FREAK is Cineteca di Bologna Publishing's second journey through unmade Chaplin films. In 2014, they published "Footlights: The World of Limelight", which included the previously unpublished novella Footlights (the "book-of-the-film" that preceded Limelight) by Chaplin with a commentary by David Robinson. This new book publishes, for the first time, Chaplin's complete script as well as a rich selection of previously unseen materials. The texts are assembled and edited with an accompanying commentary by David Robinson in association with Cineteca di Bologna, and in close collaboration with Victoria Chaplin, Gerald Larn, principal art director during preparation of the film, Kate Guyonvarch and the Chaplin Office in Paris, and Cecilia Cenciarelli, whose years with the Chaplin Archive have given her an unrivalled and indispensable grasp of his work.