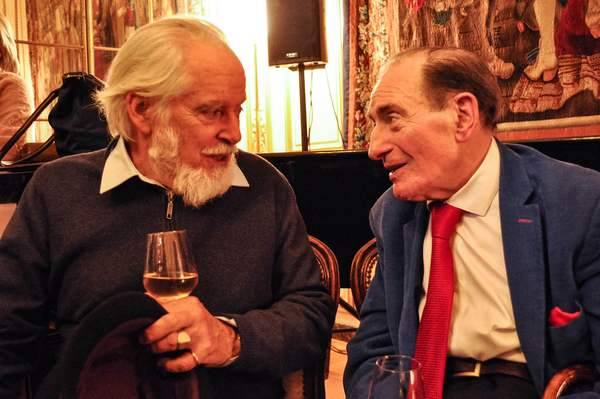 Pictured above: Michael Chaplin, one of Charlie Chaplin's sons, and Pierre Etaix, the revered filmmaker from France, whom we had the pleasure of meeting yesterday evening at the Swiss Embassy in Paris at a presentation of Chaplin's World by Yves Durand, and of the book The Freak: Chaplin's Last Film by author Pierre Smolik (a drawing by Pierre Etaix illustrates the book's preface).
At the mere mention of "Chaplin", Etaix's eyes filled with emotion. He spoke of his lifelong admiration for Chaplin.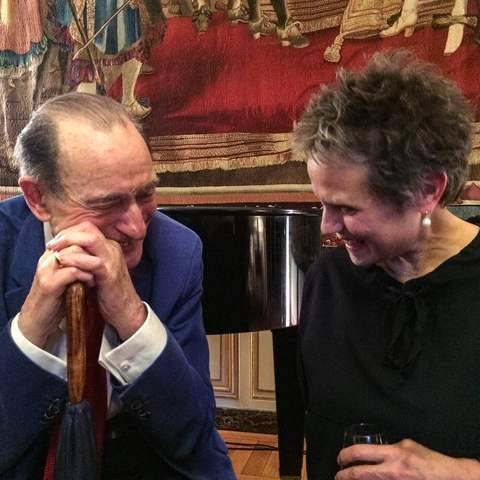 In the photograph above, Pierre Etaix tells Kate Guyonvarch, managing director of the Chaplin office, that when he was a child he snipped some fur off of his aunt's coat and stuck it to his upper lip, creating his own Charlot moustache. Etaix also remembers his surprise and awe at seeing Chaplin himself twice at Chaplin film screenings in Paris: once at the former Cinéma Paramount and once at the Cinémathèque Française, where he showed up extra early and sat in the theatre for over an hour and a half to be sure to have a seat, only to be asked to change seats by Cinémathèque staff when Chaplin himself showed up!